Kenyan Delicacies is a company that offers first class restaurant and catering services for all occasions and events including birthdays, anniversaries, weddings and cultural events·
We source and distribute Kenyan dry pre-packaged Kenyan food including flour, cooking oils, spices, and tea and send it to your location in any part of the world.
The mission and purpose of Kenyan Delicacies is to introduce Kenyan Cuisine, kenyan dry food products and crafts to the Netherlands and the rest of the world.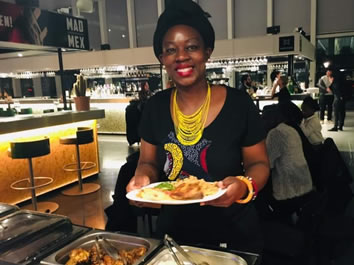 Betty Bifwoli is the founder and C.E.O of Kenyan Delicacies.
She has 5 years of business experience in the food industry and over 20 years experience cooking in the home step of a very large family where she learnt the secrets of cooking. Betty has used her gift of bringing people together through food and cultural events to bring Kenyans in the Netherlands together during Kenyan public holidays.
Apart from being a great cook, Betty is a Lawyer and an Advocate of the High Court of Kenya. She is very passionate about  real estate investment and she has used her legal,business and gift of bringing people together to empower Kenyan women through Chamas to own property in Kenya. She believes in the saying that 'When you empower women, you empower the nations'
Reserve a seat to get the best meal in town!
Want to receive regular news and updates to your inbox?